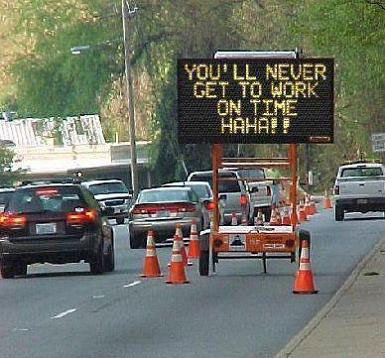 Why not answer some questions? Yeah, yeah, I know, this is a blog. I'm supposed to write stuff not use random questionnaires like a teenager to entertain. Well, whatever. Read them anyway, I'm kind of funny today. Oh, and bless your heart.
1. What time did you get up this morning? Not what time I was supposed to, that's for sure.
2. How do you like your steak? Preferably on a plate and cooked.
3. What is your favorite TV show? DVR
4. If you could live anywhere in the world where would it be? Ireland. Under the rainbow, with the rest of my leprechaun friends. But right now that would have to be switched out with Japan. The land of the other little people.
5. Are you tired? I can't remember the last time I wasn't at least kind of tired. Sleep is obviously overrated. Well for some people anyway.
6. What is your favorite food? FREE.
7. Favorite Place to Eat? At home. I hate people. Or Top of The World in Vegas. I like those people.
8. Favorite dressing? The kind you put in turkeys.
9. Cup 1/2 empty or 1/2 full? Not sure. Where the hell is my cup?
10. Favorite time of day? After work. Not in traffic. You know. Vodka thirty or something.
11. Where were you born? In a hospital. Nifty concept huh?
12. Are you a morning person or a night person? HAHAHAHAHA! Talk to me in the morning. I dare you. Unless you live in a different time zone.
13. Do you have any pets? Yep. Three of them. All holy terrors. Want one?
14. Any new and exciting news you would like to share? Ummmm...nope. But thanks for asking.
15. What did you want to be when you were little? Bigger.
16. Are you a cat or dog person? Well, since I have both, I guess both. But I'm allergic to cats and dogs. Go figure. And we all know that I've had my fair share of dogs in my life. And not the kind with 4 legs.
17. Are you married? Technically for another 6 days. Why you want to get married or something?
18. Always wear your seat belt? Define always.
19. Any pet peeves? OOOO...I have lots of peeves. Pets too.
20. Favorite ice cream? I GOT ICE CREAM. AND YOU DON'T
21. Favorite fast food restaurant? Jack in the box. Even if I am scared of the game, I hate when that little guy pops out at me. So I just quit turning the handle.
22. Do anything spontaneous lately? Spontaneity is the spice of life and I am a habanero pepper.
23. Like your job? Yep and you can't have it.
24. Broccoli? What about it? We're friends. Do you have a problem with that?
25. What is your favorite color? Depends. Are there any bulls around?
26. Where are your pets right now? Two of them are probably tearing something up in the basement. Rotten animals. The cat is probably sleeping.
27. Last time you kissed someone? Ugh. WAY too long ago. June 20th to be precise. BOO. Now I have a pouty face. Thanks a lot.
28. Last time you consumed alcohol? Ummm...Last night. *looking around*
29. What color phone do you have? Naked or dressed?
30 . Ever laid under the stars?: Well, I reckon every night...I've never been able to make it OVER them. My rocket ship bed idea didn't really pan out.
31. What outfit do you have on at this exact moment? Outfit? We office people don't really wear outfits. Well, unless you count the skank downstairs on the 3rd floor. Anyway...Black and white. That's how I roll.
32. What do you want to be? A billionaire so freaking bad.
33. What are you doing tomorrow? Working. What are you doing?
34. Do you know someone who likes you? I THINK A LOT OF PEOPLE LIKE ME :) I am cool like that. But is there someone that "likes" me? Yes, yes there is. I kinda like him too. Shhhh...
35. Have you ever had a friend named "Fred, Frank, or Felipe"? I used to have a friend name Fred. HI FRED. Last I heard, he was busy catching border jumpers in Texas. I know two Franks. I need a Felipe.
36. What is the closest green object to you? I have a few green things. I don't feel like measuring to find out which one is the closest. Oh I know, a post-it. Did you know that my friend Michelle and I invented them?
37. Did you enjoy your last kiss? Yes and no. The kiss was amazing, but, it was in an aiport before I got on a plane. And I haven't had one since. So, thank you sir, may I have another?
38. What is/are your favorite kind of band(s)? The rubber ones.
39. Do you believe in Karma? I believe in Karma Chameleons. They are red, gold and green...red gold and greeeeennnnn.
40. Do you have any imaginary friends? Well, there are some people that wave to me and say hi and think I like them, they are imagining they are my friend. Does that count?
41. When was the last time you were interested in someone? I'm currently interested in someone. SO the last time was right now....and now....and now...
42. Do you miss someone right now? Like I would miss oxygen if I didn't have it for my next breath.
43. Do you believe the statement "bigger is always better"? No I do not. The woman at breakfast this morning was a perfect example.
44. Do you have a friend with benefits? Like medical and dental? 401k?
45. Ever fell down the steps? Come on. You underestimate my clumsiness. I fall, trip, knock people down, spill things, drop things...it's really funny. Until someone gets hurt. Namely me.
46. Have you ever almost died?: Almost only counts in horseshoes and hand grenades. A hand grenade would probably kill you....I don't know about a horseshoe, maybe...with a direct blow. If you got hit in the leg with a horseshoe, it wouldn't dismember you like a hand grenade. I think we should just disregard the whole horseshoe thing anyway. "Almost only counts with Hand Grenades...period...that's all." And yes, I have almost died.
47. Have you ever been to jail?: Yes, but I rolled doubles and got out free. GO ME!
48. Are we there yet? By golly, I think we are. Please keep your hands and feet in the plane until the plane has come to a comlete stop and the pilot has turned off the fasten seatbelt signs.